Residents of the Northshore and Southshore know better than anyone else how vital it is to have a backup power source during power outages. Living in our region means that we must prepare for the weather to change at a moment's notice, especially during hurricane season. A standby generator from Burkhardt Air Conditioning, Heating, Refrigeration & Generators will give you both peace-of-mind and assurance that you and your family will be safely supplied with electric power for as long as it's needed. We are pleased to offer whole house generator services, repairs, and installations.
Why Choose a Burkhardt Generator?
For all your generator needs,
call or click here:
985.626.7741
Contact Us
Unlike your typical portable generators, whole house generators from Burkhardt automatically turn on and power your home whenever a power outage is detected and automatically turn off once electric power is restored. By connecting to an existing gas or liquid propane supply, Burkhardt-installed generators eliminate the need for refueling. What's more, whole house generators from Burkhardt deliver power straight to your home's electrical panel so that you will never again have to run extension cords through cracked windows or doors. You can rest easy knowing that your whole house generator from Burkhardt is always protecting your home and family, even while you're away.
Generator Installation, Repair & Service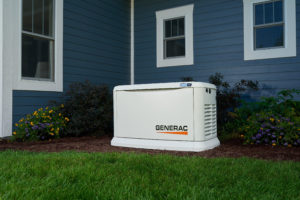 When you choose to go with a Burkhardt home generator, you will receive top of the line whole house generator maintenance services from Burkhardt's skilled technicians. They not only make the installation process easier for you, but they can quickly diagnose and troubleshoot any repairs needed on your generator. We also offer generator maintenance agreements to help extend the life of your home generator and save you even more money over time. Just like any other important piece of equipment, it is vital to keep up with maintaining your generator to ensure optimal performance during times of power failure. This multi-point service for your generator will guarantee safe and effective operation.
Generators We Trust
As part of the trusted generator services provided, Burkhardt technicians will be more than happy to help you select the perfect generator for your home and your budget. Comfort and safety are top priorities for you and your family, so we offer only the top generator brands for you to choose from such as Generac and Kohler Power. Both brands provide top of the line home generators that are proven to keep your family safe and out of the dark. When you need generator solutions for your home, rely on Burkhardt Air Conditioning, Heating, Refrigeration & Generators to meet your needs. Call us today for friendly, professional assistance with your generator. Please contact us at 985.626.7741.