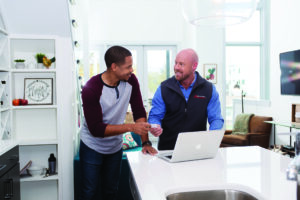 Living in Louisiana means that you and your family will need air conditioning in order to stay comfortable for much of the year. The right AC system is highly dependent on the type of home you live in and the current type of air conditioning and heating system you already have installed. When considering a new air conditioning system installation for your home, there are a few things you'll want to consider.
You should know you have options. For instance, many people are replacing their old air conditioning systems with highly efficient heat pumps. In this article, we'll talk about central AC, ductless cooling, and heat pumps, and tell you how we can help you choose the right system for your home.
What types of air conditioning systems are available?
At Burkhardt, we can help you find the best type of AC system for your home. And, we proudly install quality air conditioning and heat pump products. Learn more about the types of systems we install below:
Central Air Conditioning: Just like its name would suggest, central AC provides cooling at a centralized point. The cooled air then travels throughout your home via your ductwork. The indoor component of your air conditioning system uses the same distribution system of vents, fans, filters, and ducts to deliver the air throughout your home. Usually, central air has an indoor and an outdoor unit. Occasionally, there are packaged units that contain both the compressor and air handler in one system, which is usually situated outside the home on a cement slab.
Heat Pump Systems: Heat pumps provide effective, highly efficient home comfort, and are able to not only cool the home but provide heating as well. In warmer weather, heat pumps move heat from your house into the outdoors, and in cooler months, heat pumps extract heat from the outdoor air and pump it into your house. Because they transfer heat rather than generate it, heat pumps can efficiently provide comfortable temperatures throughout your home. Centralized, ducted heat pump systems are available that operate using your home's furnace system, as well as ductless heat pump systems that can be installed without ductwork.
Ductless Cooling: As the name implies, ductless cooling systems operate without the need for ductwork. Ductless is a perfect choice for spaces in your house like converted rooms and additions that don't have access to the home's duct system such as garages, bonus rooms, or man caves. Ductless systems typically have two separate units– an outdoor compressor/condenser and an indoor air handler, which are connected by a small-diameter tube. Ductless can be installed in only one room, or multiple units can be installed throughout your home for zoned cooling. The best part? Many ductless air conditioning systems also provide heating in the winter!
What about Amana® Brand cooling products? Are they good quality?
Amana Brand air conditioners and heat pumps are high-quality, providing effective and efficient cooling for your home. They feature the most comprehensive limited warranty coverage of any on the market. Their most efficient air conditioning and heat pump units offer Lifetime Limited Warranty* protection for the compressor to the original, registered*, single-family, homeowner of a properly matched system.
Can Burkhardt help me decide which kind of system is best for my home?
We absolutely can! As a full-service air conditioning contractor, Burkhardt can help you with any air conditioning need you may have, including product installation. We'll help you determine the best system for your home and lifestyle needs, and then one of our expert technicians will install it for you. If you're ready to learn more about the air conditioning products we provide, call Burkhardt Air Conditioning, Heating, Electrical & Generators today at 985.626.7741.
*Ask your local Amana Brand Dealer for complete warranty details. Amana is a trademark of Maytag Corporation or its related companies and used under license to Goodman Company, L.P. All rights reserved.