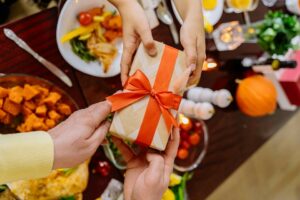 Once the holiday season arrives, we often start to think about spending time with family and friends. For many of us, loved ones travel to our homes during this time of year. You might be thinking about how you can make your home a haven of comfort for those staying with you over the holidays so that everyone has a safe, enjoyable time together.
Of course, ensuring your home comfort system is in good working order is one of the main ways to ensure a comfortable home during the holiday season. In this article, we'll talk about some of the ways you can keep your home cozy so everyone can enjoy a happy holiday season. Keep reading to learn more.
5 Ways to Keep Your Home Comfortable During the Holidays
If you have family or friends arriving for the holidays, you probably have your guest room set with all the amenities they need to enjoy their stay. An important part of that is making sure your home comfort system is prepared to keep your home comfortable, too. Here are some ways you can do that:
Make sure your HVAC system has been properly maintained. Seasonal maintenance for your heating and air conditioning equipment is important. If you haven't already done so, scheduling your maintenance now ahead of the holidays will help ensure your system is prepared to keep your home – and guests – comfortable.
Consider installing a programmable thermostat. If your home's thermostat is outdated, it might not be helping your heating and cooling equipment keep your home as comfortable as possible. Updating to a programmable thermostat can help make the most of your HVAC system and can even help you save energy in the process.
Think about ductless for occasional rooms. In some homes, occasional rooms like guest accommodations may not have access to the home's duct system. This is especially true if those rooms are in areas like bonus rooms, converted garages, and additions. You can add a ductless unit to that space, ensuring that your guests can stay comfortable, no matter what the temperature is outside.
Evaluate your indoor air quality. If your home's indoor air quality is poor, your home won't be as comfortable as you'd like. If you notice that the air smells musty, or if there seems to be a lot of dust or other particles present in the air, you may want to consider installing an air purifier or advanced filtration.
Take your electrical system into account, too. Making sure that your home's electrical system is in good working order is also important when it comes to home comfort, both for yourself and for any guests who may be staying with you. And, you can ensure that your home is ready for any holiday storms by installing a generator. It will help keep your home, family, guests, and holiday feasts safe.
Burkhardt can help you prepare your home for the holiday season.
At Burkhardt, your comfort is important to us. We strive to provide complete HVAC and electrical services, including maintenance, new system installation, indoor air quality product installation, and electrical services. If you'd like to make sure your home is ready for the holiday season, all you need to do is schedule an appointment with us. Just call us today at 985-626-7741 and we'll be more than happy to schedule an appointment with you!