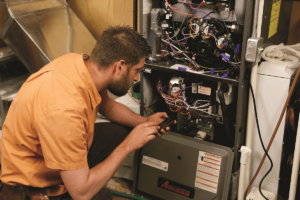 While we enjoy warm weather for much of the year in Louisiana, there are times during the winter months when we rely on our home heating to keep us comfortable. Effective, efficient home heating is important, but keeping your system in good shape can sometimes be easily forgotten. However, there are many reasons why you need to maintain your heating system on a yearly basis. We'll talk about the main benefits, as well as what can happen if you don't maintain your heating system, in more detail below.
What are some of the main benefits of heating maintenance?
For more information,
call or click here:
985.626.7741
Contact Us
Having a qualified heating professional maintain your system is never money wasted – in fact, in many cases it can be money saved. Below are six reasons why you should plan on getting annual maintenance for your heating system.
Heating maintenance helps with system effectiveness. When you have a professional properly maintain your heating system, it most likely will run more smoothly. That's because your technician will clean the parts of your system that can make it less effective if dirty, like filters.
Heating maintenance helps your system run efficiently. When your system is dirty and grimy, it not only isn't able to run as effectively, but also not as efficiently because it has to work harder to get the job done. When your system is less efficient, you'll see it reflected in higher utility bills.
Annual maintenance can help find small problems. Even in well-maintained systems, occasionally small repair needs arise. The benefit to annual maintenance is that your technician will generally find a small issue before it becomes a larger and much more expensive repair – or in the worst-case scenario, system replacement.
A well-maintained heating system lasts longer. It's just common sense – when you take good care of your heating system, it's far more likely to last for years to come. Think about it like a vehicle – if you never changed the oil or tires, you probably wouldn't expect it to last long. Same goes for your home heating system!
Annual maintenance helps maintain a record of your heating system. When you have your HVAC contractor maintain your heating system annually, they'll be able to keep a record – how often you've had it maintained, any repairs that have been needed, and general system performance. That can help troubleshoot your system quickly should any problems arise.
Yearly maintenance may be necessary to keep your warranty intact. Many manufacturers require annual maintenance as a condition of keeping the equipment warranty in place. If you fail to do so, you may be faced with a large repair or replacement cost that the warranty would have covered otherwise?
How can Burkhardt help me get the maintenance I need?
When you choose Burkhardt Air Conditioning, Heating, Generators, and Electric for heating maintenance for your home, you can count on longer equipment life, lower utility bills and a reduction in the need for emergency repair. You'll enjoy a more comfortable indoor environment, and you'll provide protection for your home's heating system.
At Burkhardt, our top priority is helping you save money and improving your comfort. When you need heating maintenance in your home, trust us for professional results. Call Burkhardt Air Conditioning, Heating, Generators, and Electric today for friendly, professional assistance with your heating needs. Please call us at 985.626.7741.