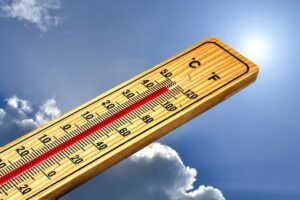 Now that the summer months have arrived here in Louisiana, we know that the heat and humidity will become a comfort factor sooner than later. Most homes and businesses have air conditioning systems that can help people stay cool and comfortable once the heat sets in. But, our climate here is also tropical, which means that the hot air is usually also very moisture-dense.

For more information,
call or click here:
985.626.7741
Contact Us
While air conditioning systems can help keep some of the humidity at bay, they often need some help. That's where a home dehumidification system comes in. A dehumidifier is an appliance that removes moisture from the air. It can be an asset for homes in humid climates, as it can help to improve air quality and reduce the risk of mold and mildew growth. In this article, we'll talk about home dehumidification, its benefits, and how Burkhardt can help. Keep reading to learn more!
Five Reasons to Consider a Dehumidification System for Your Home
As we mentioned above, in Louisiana we often experience very high levels of humidity along with the heat during the summer months. If you notice the air in your home is clammy, even with the air conditioning running, it may be time to add a dehumidifier to the home comfort mix. Here's how they can help:
Improved indoor air quality: Many people don't know it, but dust mites tend to thrive in humid conditions. Dehumidifiers can help to reduce the number of dust mites in your home by drying out the air, which can often improve respiratory health for people with allergies or asthma.
Reduced risk of mold and mildew growth: Mold and mildew thrive in humid environments. By removing moisture from the air, dehumidifiers can help to prevent mold and mildew growth, which can damage your home and cause health problems.
Greater home comfort: Dehumidifiers can help to make your home feel more comfortable by reducing humidity levels. This can be especially beneficial during the summer when high humidity levels can make it feel hot and sticky. (No more uncomfortable sticking to furniture!)
Better AC performance: When the humidity levels are especially high, your air conditioning system will need to work much harder to keep your home cool and comfortable. You may notice a decrease in cooling on especially humid days. A dehumidifier can help prevent this.
Lower energy costs: In addition to helping your air conditioner keep your home nice and cool, dehumidifiers can also help to lower your energy costs by reducing the amount of work that your air conditioner has to do. So, we think a more comfortable home and lower utility bills is a win-win!
How can Burkhardt help me get the home dehumidification system I need?
At Burkhardt, our ultimate goal is the best possible comfort for you and your family, as well as energy savings for your household. That's why we offer our customers quality whole-home dehumidification solutions. Our dehumidifiers work by pulling the moisture out of the air in your home. The extracted water is piped out of your home via a drainage system, so you can enjoy more comfortable indoor air.
When you need air quality solutions for your home, rely on Burkhardt Air Conditioning, Heating, Electrical & Generators to meet your needs. Call us today for friendly, professional assistance with your indoor air quality needs. Please contact us at 985.626.7741.