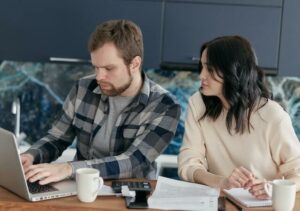 For many homeowners, replacing heating and cooling equipment doesn't necessarily come at a convenient time. There are occasions when equipment may break down and need to be replaced, and that might not be an expense you've budgeted for.
At Burkhardt, we want to help you get the home comfort equipment you need, which is why we work hard to help you save money on equipment through various means. In this article, we'll explain ways we can help you afford an HVAC upgrade in your home – without breaking the bank. Keep reading to learn more!
Three Ways Burkhardt Can Help You Afford HVAC Replacements
Here are three ways we can help, should you need to replace your heating and cooling equipment:
Tiered Product Offerings
At Burkhardt, we provide our customers with some of the best equipment brands on the market. However, we understand that not everyone needs or wants all the bells and whistles when it comes to heating and cooling equipment. That's why we provide equipment in many different configurations, so you can choose the model that best suits your home's needs, as well as your budget.
Financing
Sometimes, replacing your air conditioning or heating equipment is an unexpected expense. That's why we're pleased to provide financing for qualified customers. Special financing is available, subject to approval, through GreenSky. For more information on financing through GreenSky, visit the financing page on this website.
Special Incentives
Often, there are incentives available that can help customers save money on the cost of heating and cooling equipment, such as manufacturer rebates and federal incentives. For instance, through the Inflation Reduction Act (IRA) there are currently tax credits available to homeowners who install new, energy-efficient home comfort equipment, such as heat pump systems. Learn more about home energy tax credits.
Replacing old, inefficient equipment can help you save in the long run, too.
We know nobody wants to think about the cost of replacing old HVAC equipment, but there are good reasons to do so. As heating and cooling equipment ages, it becomes less efficient. And, many older models just can't match the efficiency of today's systems. Newer equipment can offer much higher energy efficiency when compared to systems 10 or more years old. And that improved efficiency can mean significant savings on your energy bills – helping you save money in the long run. Additionally, a new HVAC system offers:
Improved home comfort
More even cooling and heating of your home
Better indoor air quality
Money savings from having to repair an older system
Increase in value of your home
Learn more about how we can help you afford new home comfort equipment.
If you'd like to learn more about how Burkhardt can help you save money on new home comfort equipment, we're ready to help! Our top priority is helping you save money and improving your comfort. No matter what HVAC products you need, trust us for professional results. Call Burkhardt Air Conditioning, Heating, Refrigeration & Generators today for friendly, professional assistance with your HVAC needs. Please contact us at 985.626.7741.