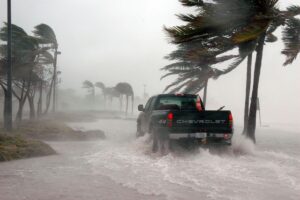 In August of this year, the National Oceanic and Atmospheric Administration (NOAA) projected an above-normal level of Atlantic hurricane activity during this hurricane season. We have already seen some stormy weather, with four named storms so far this year. At Burkhardt, we care about our customers' comfort, and we also care about your safety.
This month, we're sharing some tips that can help you stay safe should a hurricane occur, and we'll also tell you how we can help you stay safer and more comfortable during stormy weather. Keep reading below to learn more.
Hurricane Preparedness – 5 Tips
Hurricanes can be unpredictable. Tropical storms can quickly evolve into hurricanes, which is why it's so important to make sure you have a plan in place before the storm hits. Here are a few steps you can take when preparing for stormy weather.
Create an Emergency Plan. This can be done at practically any time and preparing it well in advance of a storm can help your entire family be on board and ready. You'll want to make sure you have emergency service numbers posted in an easy-to-access area and have them stored on your cell phone. Have an emergency kit ready that includes water, non-perishable food items, a flashlight, batteries, hygiene products, and first aid supplies. And, know where any emergency shelters in your neighborhood may be, as well as routes to get there.
Prepare Your Vehicle. Since you may have to evacuate, it's important to get your vehicle ready before the storm hits. Make sure you have a full tank of gas and that you have an emergency kit in your car or truck. If you have a garage, park your vehicle inside, away from inclement weather.
Get Family & Pets Ready. Go over the emergency plan with all family members, and make sure they know where to find important phone numbers and emergency items. Stay updated on the storm and local weather reports. Have a plan in place for pets and anyone with health concerns living with you.
Prepare Your Home. You'll want to make sure anything that can blow away or become a hazard is removed from your yard, such as lawn furniture, grills, and propane tanks. Cover windows and doors using storm shutters or plywood to prevent breakage. Make sure carbon monoxide detectors are in good working order and fill clean containers with water in case you lose your water supply.
Prepare for a Prolonged Power Outage. Unfortunately, storms and power outages often go hand in hand. Make sure your home is ready to endure a prolonged outage by making sure all electronics are fully charged, and that you have plenty of non-perishable food items on hand. If you have a home generator, make sure it's in good working order before the storm. At Burkhardt, we offer generator maintenance, so you'll always be prepared.
And, if you need a new generator, Burkhardt can help.
A power outage during a storm can cause a lot of damage to your home, from appliance and electronics issues to food spoilage. A home generator can save you from having to deal with those concerns. And, if you have anyone in your home who requires electricity for healthcare devices, such as a nebulizer or home oxygen, a generator can be a lifesaver. That's why Burkhardt is pleased to provide our customers with quality home generators from Generac, professionally installed by our skilled technicians.
At Burkhardt, our ultimate goal is to provide the best comfort for you and your family, as well as energy savings for your household. When you need generator solutions for your home, rely on Burkhardt Air Conditioning, Heating, Electrical & Generators to meet your needs. Call us today for friendly, professional assistance with your generator. Please contact us at 985.626.7741.